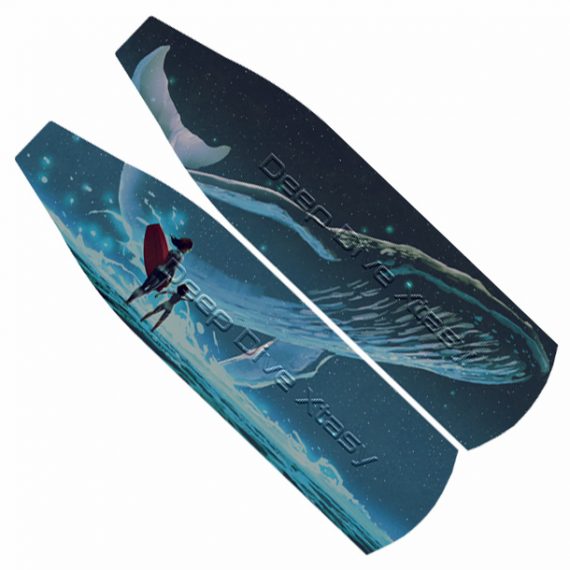 Deep Dive Xtasy Whale Fins
3
people are viewing this right now

Guaranteed safe & secure checkout
Description
A high quality freediving and spearfishing blade made from pure carbon by Deep Dive Xtasy with a skull design. The high-resolution blade design is printed directly onto the carbon fiber using a special UV ink prior to the infusion process, so even if the surface of the blade is scratched during use, the design will not be compromised. Hmm.
High performance blades are manufactured from 100″ Rospace carbon fiber using a controlled vacuum infusion (VIP) process to ensure uniform impregnation of the blade material and zero blistering/crack propagation. The blade features his 20° angle and a unique weave combination with X-ply positioning for increased lateral stiffness.
The combination of carbon fabrics facilitates the creation of blades that maintain consistency in all directions and excellent mechanical properties. Performance blades feature an advanced UV resistant epoxy resin composition that allows for superior resilience and improved blade yellowing resistance compared to conventional resins.
Additional information
| | |
| --- | --- |
| Weight | N/A |
| Blade Stiffness | 1 – Soft, 2 – Medium, 3 – Hard |
| Foot-pockets Compatibility | C4 400 Footpockets, Pathos Footpockets, Mares X-Wing Footpockets, Mares Razor Footpockets |
| Blades Color | Print |
| Material | Carbon |
Deep Dive Xtasy
Deep Dive Xtasy is a Greek company that designs and produces blades for freediving and spearfishing.